I had a vague memory that in the dim past, in 2012 when I started these effusions, the Israelis were bombing Gaza and I posted Picasso's 'Guernica'. It seemed like an appropriate opening statement. (You can check.)
Now, what more is there to say? I've been looking for the positives: here, from Sara Hussein's terrifying AFP report on children in Gaza:
'There's no final paragraph that neatly wraps up these sort of incidents, no happy ending. But there was a moment for me that stood in contrast, at the home of one of our wonderful reporters in Gaza, Adel Zaanoun. We sat down for the iftar evening meal and he insisted that I hold his two-month-old twins, Adam and Alma.
They were so tiny and so pink and they squealed and punched their little fists. They were so completely alive, and they all but forced everyone in the room to smile.'
Before the bombs: Palestinian children smile play during the second day of Eid al-Adha or "Feast of the sacrifice" in Gaza City on October 16, 2013. (AFP Photo/Mohammed Abed)
Indeed, it's always a bad idea to be simply depressed or angry about the occupation of Palestine. I recall that during a visit to Bethlehem, one of our party complained about the dreadful things we were being forced – in his case for the first time – to see (queues at checkpoints, house demolitions, you know the kind of thing). Our guide, Omar, was shocked. 'But Palestine is beautiful', he insisted. Living where he did he saw the land as the place of resistance – and also of everyday life, of culture, of ways of carrying on. All to be celebrated.
So, with so many temptations to write war-pieces about Gaza (and not forgetting the dreadful facts of destruction), I thought best to find a place for Paul Mason's upbeat report from the Guardian:
Gaza is not as I expected. Amid the terror, there is hope.
The world is not so blessed that it can afford to waste the lives of the 1.8 million Palestinians who live there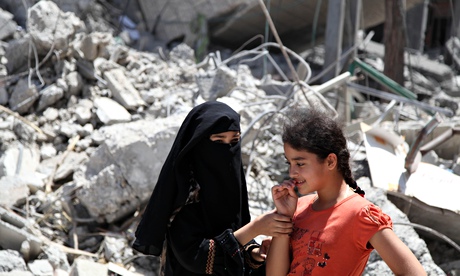 Everyday life in Gaza is becoming impossible. Photograph: Majdi Fathi/NurPhoto/Corbis
I have been reporting from Gaza all week, and, amid the stream of dead and injured civilians wheeled on trolleys before me, frantic people gesturing in my face, and nights spent in an unlit city under bombardment, I've come to a conclusion I did not expect: Gaza "works".
What I mean is that, given resources, connections with the outside world, and time, this narrow political entity could function normally. With its smooth sand, blue sea and skies, it could even become a tourist destination. It already has a massive pool of trained and educated human capital – though, sadly, its most expert people are trauma surgeons. As it is, hotels stand deserted along the beachfront in Gaza City. Their embarrassed waiters struggle to boil coffee on single flames. The fishermen in the port sneak out maybe 20 yards in canoes, while hostilities are on, 100 yards in motor boats during the sporadic ceasefires.
Everyday life, even for those with money and friends in the west, is becoming impossible. Water queues form, petrol stations are empty. Equally unnerving, for the young, urbanised kids, the internet is sporadic. I met two women – educated professionals: the top floor of their apartment block had been demolished by an Israeli rocket. Now they, too, were in the world of queues, poor hygiene, homelessness. A decent handbag does not exempt you. The currency is the shekel, but the biggest concern is gold. Palestinians keep their wealth in gold and jewellery. Around 250,000 people have been displaced and moving into a packed and filthy school, to sleep alongside the donkeys of the poor, does not strike people with gold as any better than staying and waiting for the shells to hit.
Gaza works because of Gaza's people. Since Hamas took control in 2007, the place has been run by a group designated as terrorist, and under Islamic rule. Unable to rebuild after the Israeli invasion of 2008-9, they instead built tunnels – nobody knows how long – in which the military wing of Hamas, the Qassam Brigades, live, store their rockets and fight. The tunnels are also used to bring in the essential supplies that have been banned during the seven-year siege of Gaza.
Strangely, then, for much of the day, you see the place as it might be if Hamas did not exist. Non-Hamas police keep order; women without hijabs move around as freely as the women in full veil; doctors returned from Germany and Canada saw the shattered bones of youths who have lived and may die in this small strip of land. And two-thirds of the population skip and play and wrestle – for they are children.
When this war is over, nothing good will happen in Gaza until the siege and blockade are lifted. Indeed, with 40% of the urban area unlivable because of the destruction, there will be a massive humanitarian crisis for months. Solving that crisis is not just a matter for NGOs. The way it is solved will dictate whether Gaza can survive. UNRWA, the UN agency for refugees that has opened its clean, blue-and-white schools to a dirty, chaotic surge of displaced humanity, says Gaza is "on a precipice". The hospital I've just been in has 95 blast and bullet wounds to treat, with six intensive care beds.
Logic dictates that either aid flows inwards, on an unprecedented scale, or people will flow outwards – not tomorrow, but as the weeks roll by without sanitation or power. Palestinians fear that a humanitarian crisis will be used to move them permanently off the land captured by the Israelis, and ultimately into camps in Egypt.
I have been to Muslim countries where there is deep conservatism, low education and suspicion of the west. This is not one of them. I constantly meet highly educated people who speak English; cheerful and friendly people – which is amazing in itself, given the level of terror the night brings. The world is not so blessed with educated, resourceful people that it can afford to waste the lives of 1.8 million Palestinians behind the iron grilles and the concrete walls that delimit Gaza. I have lost track of how many times I've met a young guy, 18 or 19 years old, proud not to be a fighter, a militant, or a duck-and-dive artist on the street. When you ask what his job is, the common answer is "carpenter".
Working with wood – not metal or computer code – is the limit of what the blockade has enabled the skilled manual worker here to achieve.
Faced with such hopelessness, naturally, many become resigned: "Living is the same as being dead" is a phrase you hear among young men. It is the perfect rationale for the nihilist military organisation some choose to join. But its opposite is the resourcefulness that rewires a house after its front has been blown off; that sits on the carpet making bread on a hot pan after a home has been reduced to dust.
There are only two economic routes for life to flow back into Gaza and, given the bitterness of this conflict, the route from Israel will not be the main one. Egypt holds the key to Gaza's economic integration to the rest of the global economy. Open the Rafah crossing, and the need for the tunnels disappears. To the world this forlorn, impoverished and totally battered society has become a byword for impossibility and despair. But nobody has told Gazans. I found them full of hope.
Secondly, a post from 'Middle East Eye', where ordinary Gazans were asked about their views on armed resistance, Hamas, Mahmoud Abbas and Egypt's role as well as the future. Rather long, I'm afraid, but interesting for the variety of views – within a range which is clearly focused on resistance.
A Palestinian woman holding her child amidst the rubble in Gaza on August 1, 2014 (MEE/Mohammed Asad)
GAZA – In an unusual moment of quiet, residents of the Gaza Strip were asked by MEE about their opinions of Israel's latest war on the Gaza Strip and the Palestinian response. Here are some of their very thought-provoking responses.
Nashaat Al Wehidi, 47 years old, author:
"Today there is a national consensus on the resistance as Israel continuously attacks. I refer to a group of Palestinian military factions who brought hope and spirit to occupied Palestinians, and Arabs alike. The Palestinian resistance has the ability to crack down on the Israeli occupation known 'as the army never defeated,' one of the most strategic and powerful military forces in the world.
"Palestinians have hope that Palestinian political leadership headed by Abu Mazen [Mahmoud Abbas] will return to the same stage of combining Islamist and nationalist together, in order to lead the national project to end the Israeli occupation of Palestine, release prisoners and return Palestinian refugees.
"I have a 7 year-old daughter; she has already lived through 3 wars with Israel, which killed around 5,000 Palestinians. When we talk about wars, we include the physical, psychological and emotional impact on Palestinian children from the first moment they are born. Many children in our world can't imagine this.
"As far as Egypt is concerned, we, as Palestinians, are looking for an Egyptian leader to take a role long-absent from the Arab scene, since the time of Mustafa Hafed – the Egyptian who was killed in Palestine by an Israeli explosive device, whose name is still honoured with a school named after him in Gaza.  Abdelaziz was killed in Palestine at the hands of Israeli occupation forces. We remember Ahmed Abdelaziz who was killed when Egyptian officers and soldiers, were killed in Sinai at the hands of Israeli forces who took them as POWs, disarmed them, tied their hands behind their backs and executed all but one or two – making them dig the mass graves, before executing them too. Israel's higher orders were to take no prisoners. Egyptians need to remember these things, and we, as Palestinians, need Egypt to work with us toward Arab reunification. The relationship between Egypt and Palestine is not simple. Our two nations have both human and historical relations. Egypt is considered to be, for all Arabs, the beating heart and pulse which combine the hopes and pains of all Arab nations.
"When I talk about my daughter Areej, I have to mention the defeat in June 1967. I was born in that era, which was tough for Islamic and national movements. Since then, I have lived through several wars up to the present; 2014.
Jabaliya Elementary Girls School A and B after the 30 July attack
"Despite our pain and Israel's heavy weapons splitting Palestinian bodies into small pieces, I emphasis the principle that elders die and the young never forget."
Hekmat Abu Zakary, 32 year-old, public administrator:
"Hamas is a Palestinian resistance group which defends the Palestinian lands that Israel occupies. I disagree with it ideologically and some of its policies. The difference in ideology appeared at the period of contest for governance over Gaza, in military confrontations with Fatah and PA security forces lead by Abu Mazen. This made Hamas lose popularity, because it wanted to implement its principles and beliefs on the Palestinian people. However, as a legitimate resistance movement, I respect them, especially for resisting Israel as it continues its massacres against Palestinians for so many years.
"As for Islamic Jihad – it's a movement that has always avoided political squabbling -earning many peoples' respect. It sidelined itself from political work and focused only on resisting Israel's occupation. This makes them very respected among the Palestinian public, even though some Palestinians may view them as an extension of the Iranian regime in Palestine. But that is not a problem for me.
"The foundation of Palestinian resistance is to defend Palestinian rights, and I respect that, as long as the gun is directed toward the Israeli occupation and its aim is to resist the occupation for Palestinian freedom.
"I believe Egypt, as a neighboring country, will remain the defender of the Gaza Strip. Because the geographical and human relationship between us means Egypt is always present, even if they are absent from the scene because of a struggling political system.  But there is no alternative to Egypt, it has to come back.
"As far as Mahmoud Abbas, he is still president of Palestine, regardless of how much we agree or disagree with him. He implements a policy that he sees as a service to Palestinian people and their aspirations, while Islamic movements may have different opinions. But I think a large sector of Palestinian people support him, despite his mistakes."
Abdelmajeed Abu Nasser, 22 years old, student: 
"I believe Hamas is a movement which defends Palestinian rights – I see it as a potential defense army and I respect that highly. Islamic Jihad is also an extension of Hamas, "working for one objective – to liberate Palestine from occupation. I respect Islamic Jihad for not getting involved in Palestinian politics, but utilizing its efforts to fighting the Zionist project in Palestine.
"I see Mahmoud Abbas as a legitimate Palestinian president and I respect him for carrying the cause of Palestine to the international arena. Now Abbas is standing for his people in Gaza, after he realized that Israel had little to offer him in real negotiations.
"As for Egypt, with [Egyptian president Abdul-Fattah] al-Sisi in charge, the government in Cairo stands by Israel from A to Z in endorsing Israel's blockade of Gaza and closing the Rafah Crossing to sick and injured people stuck inside Gaza. In [former Egyptian president Mohamed] Morsi's era, life was easier for us. During the 2012 Israeli war on Gaza, Morsi sent his prime minister to monitor the situation closely. I miss the time of Morsi, when we felt some freedom and care from our neighbors."
Hassan Nakhala, 23 years old, academic:
"Hamas is a resistance movement working for the liberation of Palestine from the Jordan River to the Mediterranean Sea. It tries to resist occupation with all available means. We have seen Hamas develop over the years – any person who resists occupation, I respect very much. Hamas brings pride to us by capturing Israeli soldiers to exchange for our Palestinian prisoners. Israel is unwilling to release them.
"Islamic Jihad is also a resistance movement with aims to liberate Palestine by adopting the Islamic project. I don't know why they have reservations when it comes to joining a government, but I know in the previous war of 2012, Islamic Jihad played a role in the ceasefire, and now it has a vital part in mediating between Egypt and Hamas.
"Regarding Abbas, he is the president of Palestine, but he is supposed to stand by all his people. He should stop security-coordination (PASF) with Israel. The power of Hamas resistance in Gaza is stronger because of their intention to fight collaborators. In the West Bank, security forces of President Abbas are not allowing people to resist illegal occupation.
"During Morsi's time, Egypt played a different role in the 2012 war on Gaza, but now we are under siege still and even medical supplies are not coming through. In the first war, during Mubarak's era, the war was announced from Cairo, but Mubarak pledged that he would not allow Palestinians to starve. But now, during this Israeli war our life-line tunnels are shut, and water and electricity supplies are seriously low. Egypt no longer plays the role as mediator. I do see Egypt is a party involved in imposing Israel's siege. We hope that Egypt, as we knew it, returns to its old role, by bringing an honorable ceasefire deal for Palestinian factions."
Ibtisam Al-Khalili, 48 years old, housewife:
"Hamas: I think they are good. May Allah bless them for the work they do. They are the ones who will rescue us from Israel's long-imposed siege. We have only Allah, then Hamas. I have always respected them for the work they do. They have helped through charity; helping many women and orphan children when the rest of the world turned their backs on them.
"Islamic Jihad: may Allah protect them for defending us with their rockets, when we are attacked by Israel daily. They will rescue us and give us life. We live in the shadow of their resistance now. Before we were killed for no reason, and today we are killed, but at least we have resistance. The more Israel hits us, we have no one to turn to, except them. Borders are closed and our Arab brothers have forgotten us.
"I am unhappy with Egypt, Sisi is supposed to be Muslim, but he is watching our children's bodies torn to pieces by Israel's weapons and our homes demolished over our heads. The Egyptian government is supporting Israel and not Palestinians. Didn't Sisi see the small Gaza child whose brain poured out of her head? He should have acted more humane. Sisi can't moderate a ceasefire and help the Israeli oppressor at the same time.
"Abbas is still watching, like the rest of the community – Abbas and Sisi are not standing fairly. They have sold themselves to Israel and US. I always remember both of them in my prayers and ask Allah to punish them. Abbas deals with us as a country needing charity, sending us medications as if we are a poor country in Africa, and not his own Palestinian nation."
Othman Swaliem, 38 years old, taxi driver:
"I never liked Hamas, because I disagree with their approach to ending conflict, but I am afraid we could not achieve our rights through other methods. Israel failed Abbas in negotiations and empowered Hamas by making people like me see them as the only option for changing a grim reality. The siege is killing people like me who need to feed 8 children. Now, Hamas sacrifices their lives and are owed our respect for trying the new approach – which is armed struggle – to end Israel's siege and open the borders to freedom.
Islamic Jihad has always been a good fighter in the field. I've never had problems with them. They are softer than Hamas, but their relationship with Egypt will open doors for Hamas in Egypt, after being shut by Sisi after Morsi was pushed out.
As for Abbas, I wish he'd pay more attention to people like us who are lost in 7 years of siege and Palestinian factional divides. I understand he did his best with Israel, offering so many compromises. But, my advice to him is that he dismantles the PA and tells the world, 'We are finished and occupying Israel must assume responsibility for providing services. If you keep an animal in a zoo, you are obliged to take care of it. You can't just leave it to starve and die.'
When Egypt is mentioned I can't help but see the image of Sisi. He's done so much damage to us, bringing us to a strangulation point, because some of us stood and cheered for Morsi. I am personally being punished, because before Sisi ordered closure of the Rafah crossing, I did two or three trips from Gaza City to Rafah to meet international visitors arriving with money to spend here and new faces that brought a few smiles here among the depression. None of that exists today. Egypt carries the responsibility. I can't say I am outwardly angry with them, but I remain silently unhappy, because although revolution ended an era of tyranny in Egypt, that tyranny has expanded to us through Israel and Egyptian regimes working together. I wish we could have back the old Egypt which we loved."
Here, in lieu of a poem, is Rania Masri's eloquent speech to a rally in Texas: 'Mr Obama, what is barbaric?' It deserves to be printed and learned by heart.
Here (and I'm glad I haven't used it before) is that apocalyptic anti-war song, Dylan's 'It's a Hard Rain's Gonna Fall'. It'll do.