We must recognise the danger. 'Europe' is turning increasingly nasty; and is recruiting states such as Turkey and, worse, Libya, to act as its nasty policemen. Given which, we shall have to make an even greater effort to unite the forces of humanity – surely they are still there. As I quoted earlier; the Times was of the opinion that 'for the sake of Europe and the developing world a much harder line must be drawn in the sand between them'. Steps are now being taken to achieve this.
The task of rescuing refugees, in flimsy boats and at risk of drowning, from the sea has been left to a handful of soft-hearted charities  notably Doctors without Borders/MSF and Save the Children – neither of them an extreme left organisation. And while the European leaders argue about how they are supposed to deal with refugees, the actual day-to-day responsibility for search and rescue of drowning people, which is a legal obligation, has been left to MSF and the like – just as the French government washed its hands of the camp at Calais, leaving it to Care4Calais and others to look after the inhabitants.
And now in a new twist this possibility is now being taken away from them, leaving no provision at all, with threats on one side from the Libyan authorities and on the other hand insistence from the Italian state that charities should sign a 'code of conduct'."For us, the most controversial point … was the commitment to help the Italian police with their investigations and possibly take armed police officers on board," [charity] Jugend Rettet coordinator Titus Molkenbur said. "That is antithetical to the humanitarian principles of neutrality that we adhere to, and we cannot be seen as being part of the conflict."
Médecins Sans Frontiers said in a statement: "MSF strongly denounces the threats on NGOs operating in the Search and Rescue zone.
″[These threats are] an additional attack on NGOs conducting lifesaving search and rescue operations and could subsequently
cause additional deaths and suffering in the Mediterranean Sea."
Over 90,000 migrants have been brought to Italy this year on top of the half a million brought over the three previous years.
Around 2,230 people, most of them fleeing poverty, violence and forced military conscription, died in the first seven months of 2017
trying to make the sea crossing.
The actual number of dead is likely to be far higher as many boats leaving the Libyan shore simply disappear and are not seen again.
Ships operated by aid charities have noted a marked reduction in the number of rescues required in recent weeks
which coincides with the newly-launched Italian naval mission.
The numbers making the journey had been slowing over recent months but dropped sharply during the first weekend of the operation as 1,124 people were intercepted, according to the International Organisation for Migration.
But aid groups suggest the apparent stemming of one problem is exacerbating another far bigger issue.
Marcella Kraay, MSF-OCA Project Coordinator currently aboard the Aquarius, told HuffPost UK: "This may sound like a solution of the problem [of people-trafficking] but actually it's more a case of 'out of sight, out of mind'.
"What this actually means is people are being returned to Libya which is not a safe place."
That is – if you read anything on conditions in Libya, in general and for refugees, a huge understatement. If you can bear to,
read the report of Refugees International on the conditions in Libya (no central authority to control; the prevalence of rape, imprisonment, torture for all).
To quote a friend: 'All of this is leading to the abandonment of the most vulnerable people on this planet. Their little rubber boats aren't capable of making the 70 miles, packed with 140-160 people. They've only been getting so far before the conditions rip their flimsy dinghies apart, leaving the rescues to happen in a SAR zone that is between 12 and 24 miles off the Libyan Coast. And the Libyan Coast Guard has shown already that it is not currently capable of rescuing all of the people.
With so many NGOs pulling out, who will be left to do the rescues that are so needed? And who will report the tragedy that is about to ensue? Can we expect the Libyans to testify how many people have drowned as a result of their threats?'
Here's Halo Gharib playing the violin – which some Kurds are still able to do. Baris Yazgi, like many others, was not so lucky: the 22-year-old Kurdish violinist had disappeared for two days after telling relatives of his dream to study music in Belgium, and his mother couldn't get through to his phone.
It was not until the Turkish coastguard found the body of a young man clutching a violin that the news they feared was confirmed.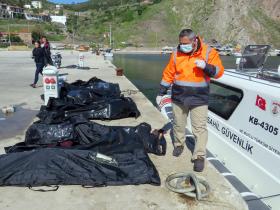 "With pictures we recognised him," said Baris's brother, Cengiz Yazgi. "He loved his violin so much that he didn't let it go when he drowned.