What can I add? Already a large part of every paper is given over to Mandela, his achievements, the public mourning, the messages from Bush, Cameron and the rest.
This when I don't need to recall that the same purveyors of messages described Mandela as a terrorist thirty years ago. But that's a very long time in politics.
Perhaps best to quote the message of Israel's best-known long-term prisoner, which simply makes the parallel. (He doesn't mention the long-term alliance of the Israeli government with the apartheid regime, which again seems to belong to the distant past – but which was once crucial for both states.)
Message of Marwan Barghouthi, following the announcement of Mandela's death
Hadarim Prison, December 6, 2013
"Our freedom seems possible because you reached yours" 
During the long years of my own struggle, I had the occasion to think many times of you, dear Nelson Mandela. Even more since my arrest in 2002. I think of a man who spent 27 years in a prison cell, only to demonstrate that freedom was within him before becoming a reality his people could enjoy. I think of his capacity to defy oppression and apartheid, but also to defy hatred and to choose justice over vengeance.
Barghouthi appearing in a Tel Aviv court in 2002. (Photo: AP)
How many times did you doubt the outcome of this struggle? How many times did you ask yourself if justice will prevail? How many times did you wonder why is the world so silent? How many times did you wonder whether your enemy could ever become your partner? At the end, your will proved unbreakable making your name one of the most shining names of freedom.
You are much more than an inspiration. You must have known, the day you came out of prison, that you were not only writing history, but contributing to the triumph of light over darkness, and yet you remained humble. And you carried a promise far beyond the limits of your countries' borders, a promise that oppression and injustice will be vanquished, paving the way to freedom and peace. In my prison cell, I remind myself daily of this quest, and all sacrifices become bearable by the sole prospect that one day the Palestinian people will also be able to enjoy freedom, return and independence, and this land will finally enjoy peace.
(Image: IMEU)
You became an icon to allow your cause to shine and to impose itself on the international stage. Universality to counter isolation. You became a symbol around which all those who believe in the universal values that found your struggle could rally, mobilise and act. Unity is the law of victory for oppressed people. The tiny cell and the hours of forced labor, the solitude and the darkness, did not prevent you from seeing the horizon and sharing your vision. Your country has become a lighthouse and we, as Palestinians, are setting sails to reach its shores.
You said "We know too well that our freedom is incomplete without the freedom of the Palestinians". And from within my prison cell, I tell you our freedom seems possible because you reached yours. Apartheid did not prevail in South Africa, and Apartheid shall not prevail in Palestine. We had the great privilege to welcome in Palestine a few months ago, your comrade and companion in struggle Ahmed Kathrada, who launched, following this visit, the International Campaign for the freedom of Palestinian prisoners from your own cell, where an important part of universal history was shaped, demonstrating that the ties between our struggles are everlasting.
Your capacity to be a unifying figure, and to lead from within the prison cell, and to be entrusted with the future of your people while being deprived of your ability to choose your own, are the marks of a great and exceptional leader and of a truly historical figure. I salute the freedom fighter and the peace negotiator and maker, the military commander and the inspirer of peaceful resistance, the relentless militant and the statesman.
You have dedicated your life to ensure freedom and dignity, justice and reconciliation, peace and coexistence can prevail. Many now honour your struggle in their speeches. In Palestine, we promise to pursue the quest for our common values, and to honour your struggle not only through words, but by dedicating our lives to the same goals. Freedom dear Madiba, shall prevail, and you contributed tremendously in making this belief a certainty. Rest in Peace, and may God bless your unconquerable soul.
Marwan Barghouthi
Hadarim prison
Cell n°28
Barghouthi subscribes, as most commentators have done these last few days, to the heroization of Mandela's work of reconciliation; which is surely important. But his old comrade Ronnie Kasrils has pointed out what concessions he, and the ANC leadership, did make – and what have been the costs in terms of continuing inequality and dispossession in South Africa.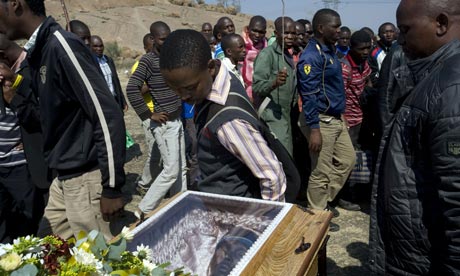 Photo: Lonmin mineworkers pay their respects to Mpuzeni Ngxande, one of the 34 miners killed by police on 16 August near the Marikana mine. 'The Sharpeville massacre in 1960 prompted me to join the ANC. I found Marikana even more distressing: a democratic South Africa was meant to end such barbarity.'
What I call our Faustian moment came when we took an IMF loan on the eve of our first democratic election. That loan, with strings attached that precluded a radical economic agenda, was considered a necessary evil, as were concessions to keep negotiations on track and take delivery of the promised land for our people. Doubt had come to reign supreme: we believed, wrongly, there was no other option; that we had to be cautious, since by 1991 our once powerful ally, the Soviet union, bankrupted by the arms race, had collapsed. Inexcusably, we had lost faith in the ability of our own revolutionary masses to overcome all obstacles. Whatever the threats to isolate a radicalising South Africa, the world could not have done without our vast reserves of minerals. To lose our nerve was not necessary or inevitable. The ANC leadership needed to remain determined, united and free of corruption – and, above all, to hold on to its revolutionary will. Instead, we chickened out. The ANC leadership needed to remain true to its commitment of serving the people. This would have given it the hegemony it required not only over the entrenched capitalist class but over emergent elitists, many of whom would seek wealth through black economic empowerment, corrupt practices and selling political influence.
To break apartheid rule through negotiation, rather than a bloody civil war, seemed then an option too good to be ignored. However, at that time, the balance of power was with the ANC, and conditions were favourable for more radical change at the negotiating table than we ultimately accepted. It is by no means certain that the old order, apart from isolated rightist extremists, had the will or capability to resort to the bloody repression envisaged by Mandela's leadership. If we had held our nerve, we could have pressed forward without making the concessions we did.'
(Full article at http://www.theguardian.com/commentisfree/2013/jun/24/anc-faustian-pact-mandela-fatal-error.)
Poem: by Dennis Brutus, who was imprisoned with him on Robben Island.
For Nelson Mandela
Yes, Mandela, some of us
we admit embarrassedly
wept to see you step free
so erectly, so elegantly
shrug off the prisoned years
a blanket cobwebbed of pain and grime;
behind, the island's seasand,
harsh, white and treacherous
ahead, jagged rocks
bladed crevices of racism and deceit
in the salt island air
you swung your hammer grimly stoic
facing the dim path of interminable years,
now, vision blurred with tears
we see you step out to our salutes
bearing our burden of hopes and fears
and impress your radiance
on the grey morning air
As for music: well, we'd better have a version of 'Nkosi Sikelel' iAfrika'; and this, as well as having some of the harmonies I like, is allegedly the 'official' one, which is playing it safe.
At times like this, it seems hard to come up with reactions which are up to the measure of events.
§ 2 Responses to Day 71"