Something is happening, but by now it seems impossible to say what. Two weeks ago, I posted something anodyne about maths in schools, unaware that anything was going on – across the Channel, and across Europe. I was late to catch on. The Worldwide  
Tribe in Calais and CalAid had formed to try to bring the desperate situation to attention, in early August. I read (and publicized) a report from the Calais camp on the 20th; a week later (2nd September), Ros Ereira had the idea of organizing a demonstration, posted it on Facebook and to her amazement got 50,000 responses including Lindsey German, who commands quite a few battalions. Meanwhile, the British press, who were complaining on August 28th that refugees were turning Kos into a hellhole for tourists had switched by September 4th to congratulatory accounts of Cameron's liberal turnabout. There is, indeed, a mass movement, started from below. Volunteers (I was one, reader) sorted donated shoes by size and packed them into bags so as to be loaded on lorries and trucked down to Calais. A number of organizations are involved, I don't know or care if they coordinate. But this story is going to run, and if I interrupt it in the middle, that's how it has to be.
Before the news, better have a poem (which has been widely circulated):
CONVERSATIONS ABOUT HOME (AT THE DEPORTATION CENTRE)
by Warshan Shire
Well, I think home spat me out, the blackouts and curfews like tongue against loose tooth. God, do you know how difficult it is, to talk about the day your own city dragged you by the hair, past the old prison, past the school gates, past the burning torsos erected on poles like flags? When I meet others like me I recognise the longing, the missing, the memory of ash on their faces. No one leaves home unless home is the mouth of a shark. I've been carrying the old anthem in my mouth for so long that there's no space for another song, another tongue or another language. I know a shame that shrouds, totally engulfs. I tore up and ate my own passport in an airport hotel. I'm bloated with language I can't afford to forget.
*
They ask me how did you get here? Can't you see it on my body? The Libyan desert red with immigrant bodies, the Gulf of Aden bloated, the city of Rome with no jacket. I hope the journey meant more than miles because all of my children are in the water. I thought the sea was safer than the land. I want to make love but my hair smells of war and running and running. I want to lay down, but these countries are like uncles who touch you when you're young and asleep. Look at all these borders, foaming at the mouth with bodies broken and desperate. I'm the colour of hot sun on my face, my mother's remains were never buried. I spent days and nights in the stomach of the truck, I did not come out the same. Sometimes it feels like someone else is wearing my body.
*
I know a few things to be true. I do not know where I am going, where I have come from is disappearing, I am unwelcome and my beauty is not beauty here. My body is burning with the shame of not belonging, my body is longing. I am the sin of memory and the absence of memory. I watch the news and my mouth becomes a sink full of blood. The lines, the forms, the people at the desks, the calling cards, the immigration officer, the looks on the street, the cold settling deep into my bones, the English classes at night, the distance I am from home. But Alhamdulilah all of this is better than the scent of a woman completely on fire, or a truckload of men who look like my father, pulling out my teeth and nails, or fourteen men between my legs, or a gun, or a promise, or a lie, or his name, or his manhood in my mouth.
*
I hear them say, go home, I hear them say, fucking immigrants, fucking refugees. Are they really this arrogant? Do they not know that stability is like a lover with a sweet mouth upon your body one second and the next you are a tremor lying on the floor covered in rubble and old currency waiting for its return. All I can say is, I was once like you, the apathy, the pity, the ungrateful placement and now my home is the mouth of a shark, now my home is the barrel of a gun. I'll see you on the other side.
Scare story [Satire]
As the world continues to reel from the latest harrowing revelations from Syria's ongoing civil war, a fresh terror is now driving urgent efforts to find a lasting solution: the news U2 frontman Bono has 'taken to the studio' with the aim of producing a stirring ballad to highlight the suffering.
According to a UN report published this morning, Syria is now "just weeks away from a Bono charity single",
and opposing sides must "act with immediacy to prevent further unimaginable suffering".
"The mere thought of [Bono] looking earnestly into the camera, pulling a pained expression and rhyming something with Aleppo should be enough to bring President Assad to the negotiations table immediately," said UN secretary general Ban Ki Moon in a statement. "We desperately urge all parties to lay down their arms and work towards a viable peace plan to ensure whatever he's recording never sees the light of day."
Refugee camps across Lebanon have been put on high alert for the arrival of Bono, Bob Geldof and "probably Chris Martin" following rumours of a music video that will see them "crouching on a muddy floor while surrounded by smiling children in ragged clothes".
Thousands of refugees blocked from travelling into the Europe from Hungary have begun walking to Austria.
Men, women and young children braved extreme heat to walk along the main M1 motorway out of Budapest.
The move comes after Hungarian authorities spent days blocking migrants – many fleeing war-torn Syria – from boarding trains to Germany.
"The situation is degenerating by the day – there are simply too many people on the move for Hungarians to keep them under control," Europe Editor James Mates said.
The Hungarian government later announced they would provide buses to the Austrian border- news that was met with cheers by the thousands making the journey on foot.
In other developments in Hungary:
Migrants have clashed with riot police at the Roszke camp, close to the border with Hungary
A Pakistani migrant died after running down the tracks from Bicske railway – where police had been holding several hundred migrants on a train since yesterday
Refugees clashed with riot police after breaking down the barrier at Roszke camp, close to the border with Serbia.
The leaders of Slovakia, Poland and the Czech Republic said they 'stand ready' to assist Hungary if needed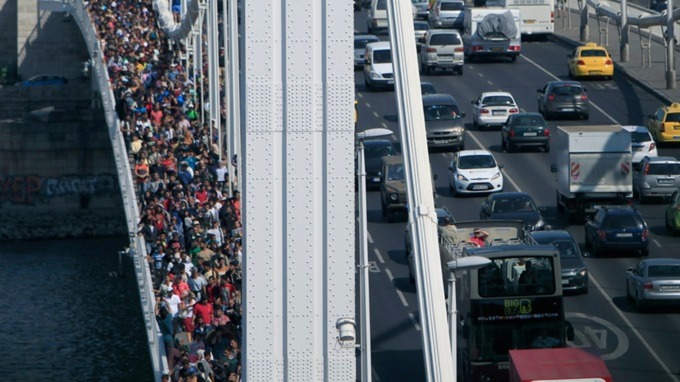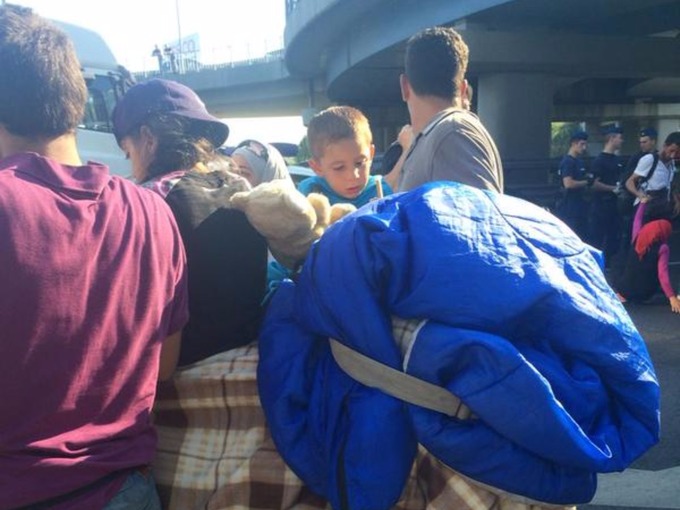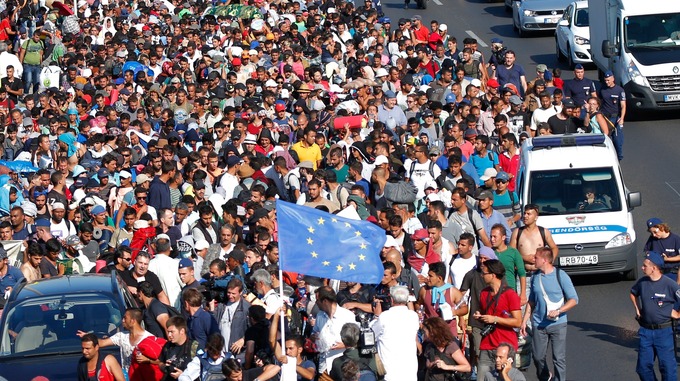 Migrants who had been held on a train at Bicske railway station ended a 36-hour stand off with police and boarded buses to a nearby camp to be registered.
Around 350 people ran down the tracks from the station earlier in the day, with a Pakistani migrant reported to have died after falling and hitting his head.
Migrants forced down the barriers at Roszke camp, near the Serbian border, with police using tear gas to try to control them.
The leaders of Hungary's neighbours, Slovakia, Poland and the Czech Republic expressed solidarity with the country, but the Hungarian prime minister has expressed concerns that the large influx of refugees threaten the "Christian values" of Europe.
Laszlo Kiss-Rigo, Bishop of Szeged-Csanad in southern Hungary, said the migrants "come here with cries of 'Allahu Akbar.' They want to take over." He added that Pope Francis "doesn't know the situation" and that many so-called refugees are actually economic migrants.
[On Sunday, the Pope called on every Catholic parish across Europe to take in refugees. "Faced with the tragedy of tens of thousands of refugees who are fleeing death by war and by hunger, and who are on a path toward a hope for life, the Gospel calls us to be neighbours to the smallest and most abandoned, to give them concrete hope," he said.
"May every parish, every religious community, every monastery, every sanctuary in Europe host a family, starting with my diocese of Rome," he added.]
A group of around 100 people living in the tent city on the outskirts of Calais marched towards the town chanting "freedom, freedom"
Mohammed, 30, from Sudan, said: "We decided to go on hunger strike because we cannot live like this. There is no security here.
"People are dying or being injured every day trying to get to the UK. We want to be able to claim asylum without having to jump on lorries or moving trains."
A new politics?
The widespread response to this is being linked to the popularity of bearded leftie Jeremy Corbyn. As Julie Hesmondhalgh said in Manchester: "Welcome to the vibrant, mass movement of giving a toss about stuff." When Corbyn eventually spoke he began with a rejection of personal insults, saying: "Whatever abuse is thrown, we ain't replying, we ain't giving it. We're doing politics of our own, putting forward ideas."
Corbyn's vision can perhaps be summed up by a Britain which, as he put it, "cares for people who are in a bad place." He talked of ending homelessness, supporting mental health services, regulating the private rental sector, building social housing for the most needy and showing refugees a "sense of decency and humanity". Can this possibly be a winning programme?
Music:
Here, for the Eritreans, is a song called 'Korburale'; I hope it's appropriate. And here, for the prisoners, os Beethoven's always appropriate 'Komm, Hoffnung'.