Well, last night a historic church in France was destroyed by fire
 – you probably heard about it. And I wept, with many of my French fellow-citizens, as I remembered my past visits to the vast and beautiful church. Of course, the fire which partly  destroyed Notre Dame was probably the result of careless contractors' failure to take proper precautions; while three churches in Calais were destroyed (two years before) deliberately and violently by the civil authorities who were determined to erase a culture which was trying to establish some feeble roots in Northern France. I've been weeping a fair bit about them too, and I recommend you to spend some. time on them. (Since the idea of , for example, an Ethiopian church in Calais seemed intolerable to the citizens.) The Socialist mayor of Paris Anne Hidalgo, who has been. it seems, (in contrast to M. Macron) doing her best to ameliorate the misery of the migrants sleeping rough in the streets of the capital, and has inevitably called for an end to their persecution; is now confronting the disaster of Notre Dame. Fluctuat nec mergitur.
No one seems to have been killed in either fire, by contrast to the destruction which has been wrought on the streets of Paris and indeed Calais  by the CRS. And now here we are, desperately trying to shore up some fragments of ourselves in this ruined landscape.
By an odd coincidence, but it's not just a coincidence, I've been renewing acquaintance, at least virtually, with some of the old 2015 gang; the lads and lasses who tramped with me along the Chemin des Dunes as, bit by bit, it was being destroyed. What are we doing now? I hope to find out; in my case, the answer is nothing very hopeful. In this new strange Britain where Jeremy Corbyn and Teresa May link arms to ensure a non-catastrophic Brexit, I can't see any place for my old comrades; but prescience has never been my strong point. We may meet from time to time over tea and hot cross buns to discuss the possible outcomes for a Europe in which the fascists seem to be everywhere on the ascendant; ;and we are , these days, the discussing the concept of a 'crime of solidarity' as it's increasingly called.
And yet how rapidly things are changing! In Sudan and Algeria, two countries where an 'old guard' had clung to power for thirty years, it has been summarily removed in a matter of weeks. I don't have the knowledge or wisdom to comment to where these immensely hopeful developments may lead, I'll simply mention them to show I'm not completely ignorant.
And in Paris, the mayor, Anne Hidalgo is trying to avoid the repression which is an inevitable temptation for European governments.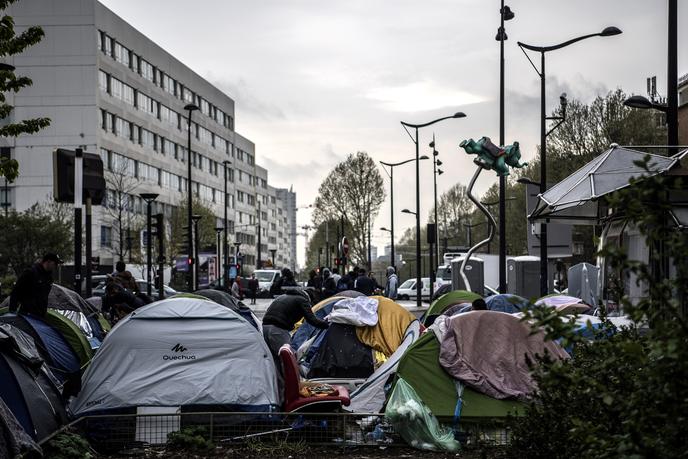 The Mairie will 'stop fraudulent dealing and drug trafficking, seven days a week'; and to rebuild a bit of peace, they claim they will strengthen the new  teams of city police.There will be a brigade present  under the aerial metro from Barbes to Stalingrad and around.
Paris, France – Trying to ward off the overnight cold with a blanket donated by volunteers, Muktar Ali was sleeping rough in the north of Paris when at about 4:30am, the police returned. He and several other Eritreans say they were pushed, prodded and kicked by police clearing the area.
"Police took everything I had – clothes, shoes, blanket – and threw it all away," said Ali, 33, who had fled forced conscription in Eritrea and was held captive by rebels in Libya before crossing the Mediterranean Sea to Europe. Now, he's among many refugees living on the streets of Paris, who have been subjected to displacement, detention and deportations.
Police raids, at least 30 since last June, and a cycle in which displaced people return to live in squalid camps, have angered residents and prompted them to form groups like Le Collectif La Chapelle Debout, which provide food and shelter that they say the government should be providing.
But recently, as a result of these actions, these activists have been finding themselves in criminal courts across France.
Houssam El Assimi, of Chapelle Debout, was arrested during a police raid on a Paris camp last September. Charged with "violence against persons holding public authority," he faces up to three years in prison and €45,000 (over $48,000) in fines.
Last week, his trial was adjourned until May. In the meantime, he plans to file charges against the police for using excessive force during his arrest.
He has been translating French and Arabic and helping migrants navigate the French immigration system and told Al Jazeera that he is being targeted because his group protests against the police and government policy.
El Assimi is one of several people pursued in the courts for protesting on behalf of migrants and asylum seekers or providing them with transport and shelter.
Under Article L622-1 of France's immigration law, anyone who "facilitates or attempts to facilitate the illegal entry, movement or residence of a foreigner in France shall be punished by imprisonment for five years and a fine of €30,000 (over $32,000)".
Pierre Mannoni was arrested at a highway toll booth while driving three injured Eritrean teenage girls to Nice for medical care [Kyle G Brown/Al Jazeera]
Crime of solidarity
Pierre Mannoni, a 45-year-old geography professor and father of two, was arrested at a highway toll booth while driving three injured Eritrean teenage girls to Nice for medical care. He was acquitted in court, thanks to another clause stipulating that one must benefit from the transaction – a clear reference to human trafficking. But the prosecution has appealed and called for a six-month prison term.
Often referred to as the "crime of solidarity", the law has been used to prosecute people who support  migrants and asylum seekers.
Rights group Gisti has documented a rise in the number of such cases going to court, and more than 100 NGOs, charities and labour unions signed a manifesto this month calling for an end to the criminalisation of humanitarian activity.
"What we're seeing is that all of the cases have one purpose," Claudia Charles, a legal expert at Gisti, told Al Jazeera. "That's to discourage any kind of support for the foreign population, be they migrants, Roma or asylum seekers."
Originally aimed at smugglers in 1945, the law was sometimes used under former President Nicolas Sarkozy's administration to prosecute those who helped immigrants
In 2012, the new Socialist government vowed to turn the page. "Our law cannot punish those who, in good faith, want to give a helping hand," said Manuel Valls, then France's interior minister.
Human rights groups accuse the government of betraying its word and say an ever-widening range of laws are now being used to criminalise people for helping new arrivals, from the charge of assault to defamation and "insulting a public official."
"Since 2015, there's been a proliferation of cases aimed at intimidating or preventing citizens from expressing solidarity with migrants, refugees and Roma," says Marine De Hass, of the rights group, La Cimade. "It's not just article 622-1. A growing number of people are being prosecuted for helping or supporting, undocumented persons," De Hass told Al Jazeera.
Local Green councillor Jean-Luc Munro described a personal incident that took place as he was riding his bike in a Roma camp near Lille last April.
He said he was thrown off his bike after being told to stop by the police at a roadblock there, and was consequently charged with using his bicycle as a weapon to inflict "violence against a public official".
"There's been a real hardening against activists for a year and a half now," Munro told a local newspaper.
Having documented only a handful of cases against activists between 2012 and 2015, Gisti lists more than a dozen in 2016 alone, with several more going to court in the coming months.
The list is not exhaustive: both Charles and De Hass say there are probably more, unknown, cases.
Bruno Le Roux, the French interior minister, told Al Jazeera, however, that if no one profits from helping refugees and migrants, there is no "crime of solidarity". "So I can tell you that for all the cases being pursued, in court, they're cases where we believe there is a violation of the law."
The ministry has not responded to repeated requests for an explanation as to why cases are being pursued in which no personal gain is apparent. Although the Nice courts concluded as much in Mannoni's trial, the prosecution appealed his acquittal.
"It's crazy that we have reached this stage," says Mannoni. "Where I've gone to trial for helping someone who is hurt. The government is criminalising human charity."
But this is the way it's been going. Georges Brassens would have understood.